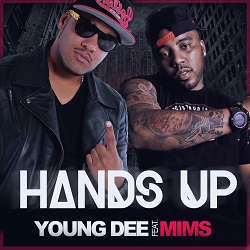 Release! Young Dee ft. Mims - Hands Up
Gepostet in: Musik
Young Dee aka. Mr. Clubbanger haut vor Weihnachten wieder einen Hit raus. Dafür hat er sich keinen geringeren als Mims (This Is Why I'm Hot) an seine Seite geholt.
Dabei raus gekommen ist der Song "Hands Up".

Lasst euch wieder mitreißen und lauscht dem Release heute Abend den 27.11.2016
in der Show
Blue meets DJ's um 21 Uhr.

Mit dabei sind noch
DJ Bustabass mit seine Tape: Lord of the Rings Vol.03 und
einem Set von unserem DJ Cooly D. aus den Niederlanden.

Der Song Young Dee ft. Mims - Hands Up ist übrigens ab den 15.12.2016 in den Stores erhältlich!


---
---
Tags:
Young Dee
Mims
DJ Bustabass
DJ Cooly D.