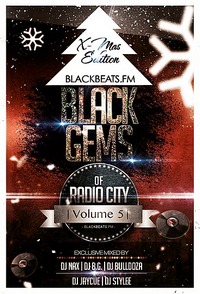 Black Gems Of Radio City Vol. 5
Gepostet in: Events
Liebe BlackBeats.FM-Community,

unsere Black Gems of Radio City-Reihe geht weiter. Am Sonntag, den 01.12.2013 präsentiert euch unsere Moderatorin Blueroom ab 20 Uhr einzelne Musikparts zu Thema X-Mas.

Was ist Black Gems of Radio City eigentlich?

Monatlich präsentieren wir euch die Black Gems of Radio City-Episode. Insgesamt eine Stunde Tapes, die alle samt verschiedene Mottos aufweisen und von unseren zahlreichen Dj´s gemixt werden.

Der Sonntag steht diesmal ganz im X-Mas-Motto. Gemixt wurden die einzelnen Parts von Dj Nax, Dj BG, Dj Bulldoza, Dj JayCue und Dj Stylee. Schaltet ein, wenn es ab 20 Uhr heißt "BlackBeats.FM präsentiert euch Black Gems of Radio City Vol.5" .



---
---
Tags:
BlackBeats.FM
Black Gams of Radio City
X-Mas
Kommentare: