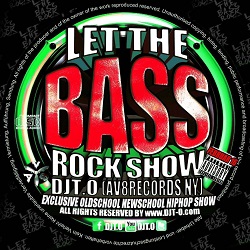 Radiorelease! DJ T.O. - Let The Bass Rock Show Februar 2016!
Gepostet in: Musik
Alle paar Monate dürfen wir uns auf ein neues Release von unserem DJ T.O. freuen. Seine Serie heisst "Let The Bass Rock Show" und am morgigen Sonntag

den 31.01.2016
um 21 Uhr

gibt es die Episode vom FEBRUAR 2016 auf die Ohren.

Mit am Start sind:
Shai, Jonn Hart ft 50cent, Eric Bellinger ft Fetty Wap, N Sync ft Nelly, Tyga, Snoop Dog, DJ Derezon ft Devonte uvm.

Ihr könnt euch auf knapp 80 Minute Feinstes aus dem Urban Bereich gefasst machen.
---
---
Tags:
DJ T.O.
Let The Bass Rock Show
Februar 2016